On Monday, the 20th of July 2020, we celebrated three years of existence in the hosting space! And as a birthday treat to our wonderful community, we gave away 10 FREE servers. Everyone was eligible to enter by signing up on our website, filling our giveaway form and telling us why they deserved to win one of the prizes. This is the biggest giveaway that we've ever had with a prize pool worth more than $1000! We got amazing responses from our giveaway entrants, mentioning how one of the 10 free servers would help streamline their work and projects.
Table of contents
Our giveaway prizes – FREE servers
Yes, we gave away 10 FREE servers of our JULYGIVEAWAY-3 plan. But that wasn't all. Our prize pool also had two discounted VPS plans with FREE cPanel installed for a lifetime! Here's our complete prize list:
JULYGIVEAWAY-3
1 vCPU Core
2 GB RAM
40 GB RAID 10 SSD
1 x IPv4 and 3 x IPv6
2 TB Bandwidth
Free Backups and Snapshots
Free AnyCast DNS
$0.00 /MO (for a lifetime)
Who can benefit from this plan?
This free server plan is ideal for all your personal projects. With the 2 GB RAM on this free server, there are many applications that it can be put into. The following are some of the ideal use cases for this plan:
Host your blog
Host a mail server
Host a VPN
Host a portfolio site
Host a file storage space etc.
JULYGIVEAWAY-1
4 vCPU Cores
8 GB RAM
150 GB RAID 10 SSD
1 x IPv4 and 3 x IPv6
5 TB Bandwidth
Free cPanel Plus (50 Accounts)
Free Backups and Snapshots
$24.24 /MO
Who can benefit from this plan?
The 50 accounts that come with the FREE cPanel license is ideal to host reseller accounts. Resellers could expand their business with this plan by adding 50 more users. With the FREE Automated Backups and Snapshots feature, you're able to make sure your users are safe online. This is beneficial for you to promote your business as a trustworthy one and gain credibility among your clients.
JULYGIVEAWAY-2
2 vCPU Cores
6 GB RAM
100 GB RAID 10 SSD
1 x IPv4 and 3 x IPv6
5 TB Bandwidth
Free cPanel Pro (30 Accounts)
Free Backups and Snapshots
Free AnyCast DNS
$16.99 /MO
Who can benefit from this plan?
With the 30 accounts included in this FREE cPanel license, this plan is ideal for web developers and designers. You can use this plan to host all your websites. Free Automated Backups and Snapshots are included in this plan as well. With this feature you can avoid incurring business losses by ensuring that your websites and all their data stay secure.
Why we love SSD (and why our free servers have SSD)
All our prizes had premium RAID-10 SSDs, so our winners are able to get the best out of their free servers. If you're looking for fast servers with great performance and high efficiency then SSDs are the way to go. Here's why we love SSD:
SSDs are fast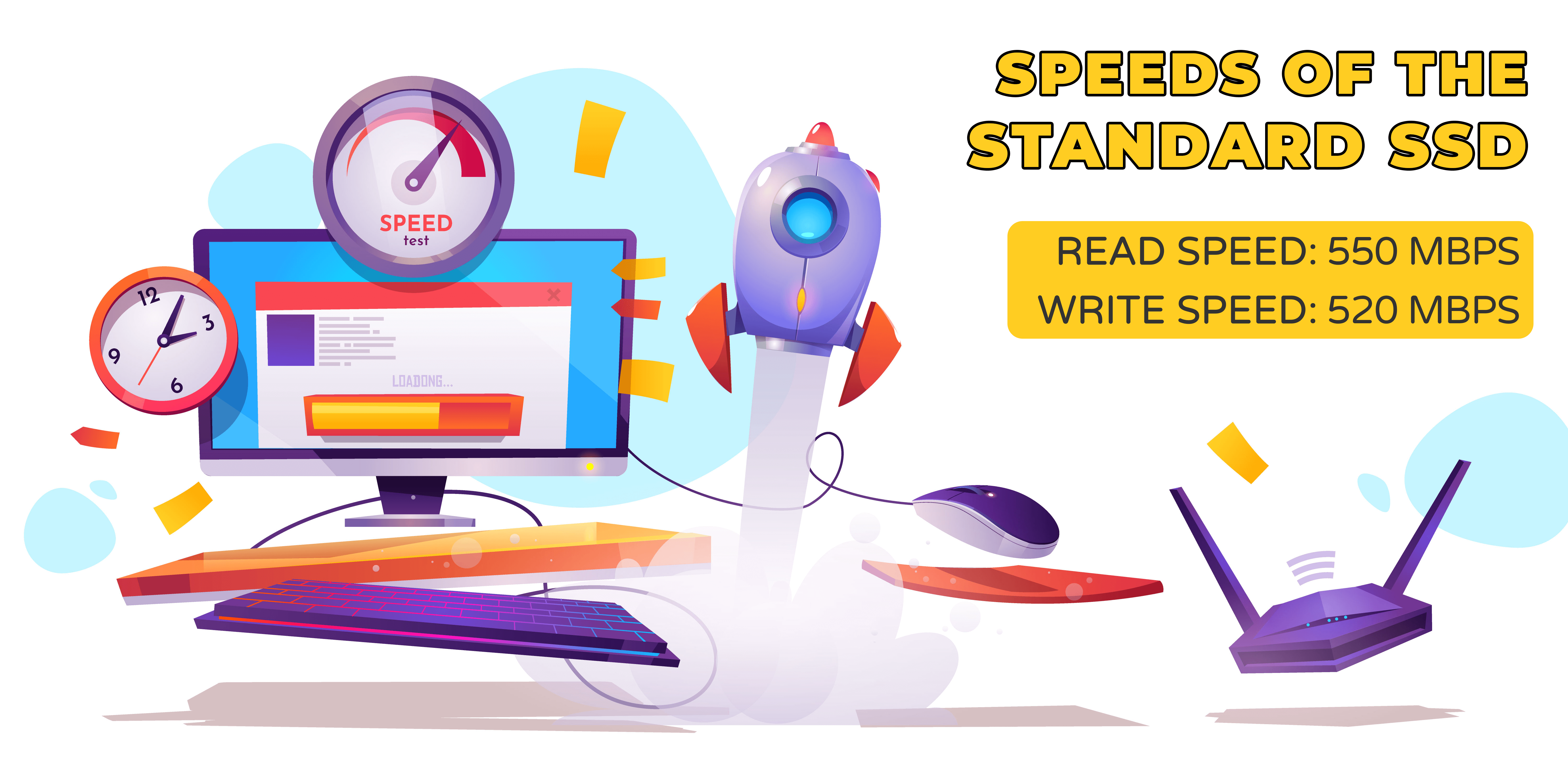 The microchip storage technology makes SSD a much faster option than HDD in terms of boot speeds, application load speeds and the general speed of your system. This change in speed is caused by the difference in time consumption made by the read/write head on an HDD vs the immediate response delivered by microchips in SSDs.
How much faster is an SSD than an HDD?
The answer to this question depends on a lot of factors including what SSD and HDD you're comparing here. It also changes based on the types of speeds you're comparing; read speeds or write speeds. Generally the read speed of a standard SSD is about 550 megabytes per second (MBps). The write speed of the same could be about 520 MBps. In contrast to this, a fast HDD may have a read/write speed of just 125MBps. 
They consume less energy
Staying green is important to us as a hosting service provider. We love SSD because SSD makes this easier by consuming less energy than the standard HDD. Numerous tests have proved that the standard SSD uses less than half of the power of the standard HDD at load. At idle times, this power consumption difference is futher increased, as SSDs consume 1/8 of the power consumed by HDD.
You can max out on efficiency
Thanks to their build and the resulting speed and low power consumption, SSDs are super efficient. If your project goes through a complicated workflow, then it's incredibly helpful to make sure that your hosting infrastructure will show no ill-timed failures and that it will deliver seamless efficiency. In this case SSD storage is ideal.
How RAID-10 storage boosts efficiency and redundancy
Mirroring and striping are the two techniques that make RAID-10 storage redundant and efficient. Mirroring is a technique where data is written to multiple SSDs at the same time. That way, if one drive fails you've still got a mirrored version of the same data available. Striping is used to store data, that has been broken into "chunks", on different drives so that your RAM doesn't access data from the same place every time. These techniques boost performance and efficiency of the free servers. This is what makes our free servers super efficient.
Want to enter our future giveaways? Join our community!

Think this giveaway is cool? Want to get your hands on free servers, free CloudCone merch, free Cloud credits and more? Be the first to know about our upcoming giveaways and contests by joining our community. You can follow us on Instagram, Facebook, Twitter, and LinkedIn to get the earliest updates on these exciting giveaways.
But wait, it's not just free servers and other prizes. We also post sneak peeks of what happens behind the scenes at CloudCone, less known facts about cool tech trends and so much more. Be a part of our journey.
What we achieved in the past year
While celebrating the 3 year milestone with the free servers giveaway we also looked back on how we grew in the past year:
We launched our mobile app

with instant support, easy access to your server dashboard, billing related activities, push notifications, and boot, reboot and shutdown functionalities.

We introduced the one click applications feature

that allows you to deploy important applications on your server for free in just one click.

We implemented our true private cloud solution

that allows your expanding business to run in a dedicated environment that is both secure and scalable to your heart's content.

We acquired our cPanel certified partnership that also granted an opportunity for the skilled cloud engineers on our team to certify as cPanel admins. 
We transformed our platform

by investing in hardware and SSD storage with better performance and storage to upgrade our entire infrastructure. 
What to look forward to in the coming years
This year we're planning to introduce more products and features including the Version 2 of our API that allows customers to control their server within their software or application. Hope you'd look forward to it. Of course more fun events like our free servers giveaway are also on the way! ??
We're on a mission to create an unmatched stack of cloud services that collaborate to provide the most scalable infrastructure for your online presence, fully managed by friendly humans. We believe that our services and our technology can bring positive change to many startups, small businesses, software and web applications. Our vision is to change the way that business and IT run, for the better.
Curious to learn more? Check out these amazing related posts:
Post #1: If you're already using our platform with one of our free servers or our regular servers then check out our mobile app for more convenience. Get exclusive access to on-the-go instant support, instant dashboard view and other key functionalities available at your fingertips.
Post #2: If you're in the process of expanding your business and upgrading all the necessary resources for better performance, better storage and better security and DRaaS, implement our true private cloud solution. Read up about what this solution can add to your business on our blog post.
See you again with a new post! Reach out to us if you have any concerns, suggestions, or general feedback.