Content Delivery Network Nexus
Enterprise grade fault tolerance PULL CDN for any business. Cache your static content and media globally including North and South America, Europe, Asia, and Oceania.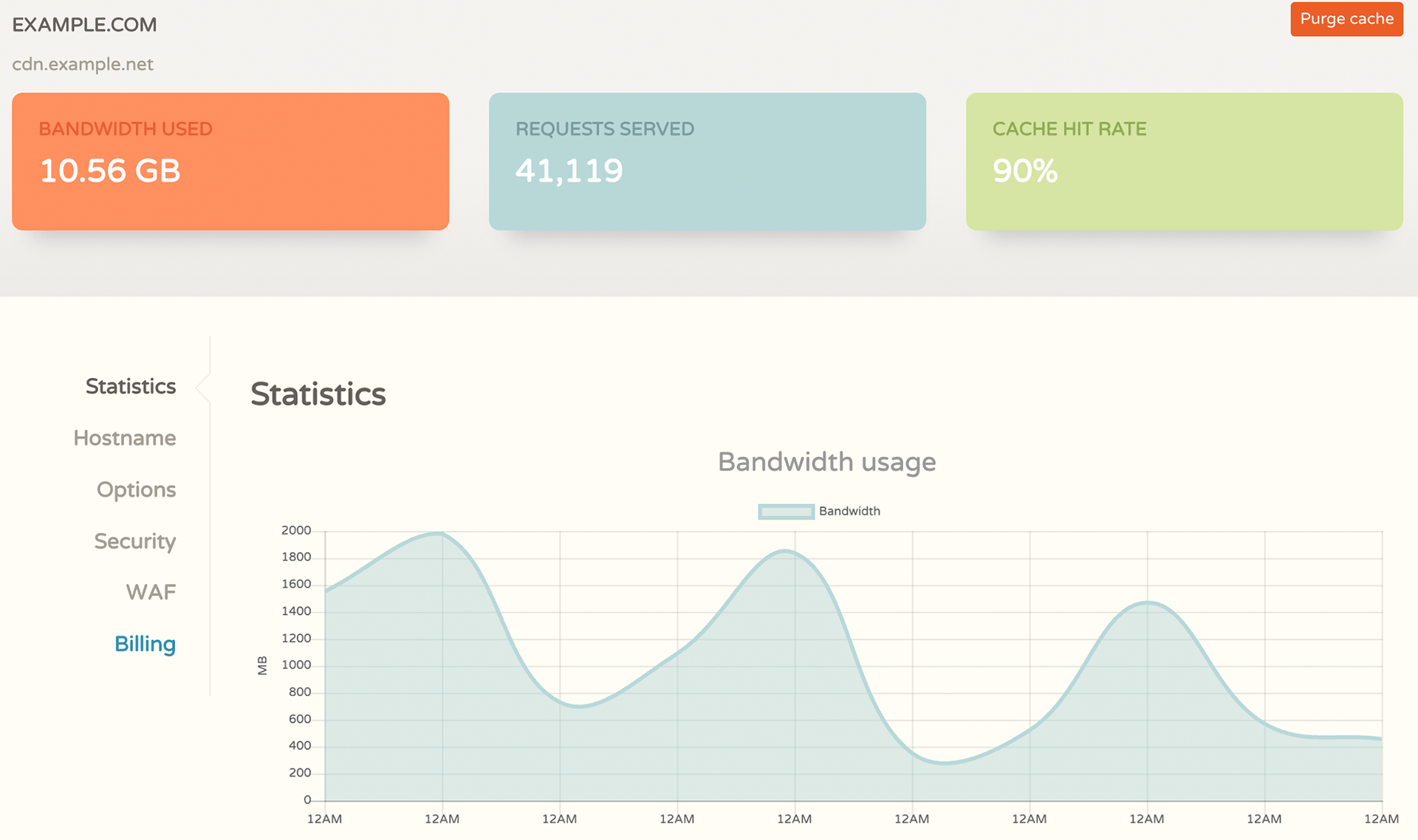 Ultra-fast static and dynamic content delivery
Make use of our Content Delivery Network Platform, CDN Nexus to extend your reach across the world; Improve performance and control on web files, websites and streams.
---
More reach, more speed, happier global users.
Value Worldwide Coverage, Billed Yearly
The Value Worldwide plans include the most price-friendly locations at an attractive annual rate to cache your content globally
100 GB
$11.99
Per Year, USD
---
Add Pull Zones

Let's Encrypt SSL

Custom CDN Hostname

WAF

Hot Link Protection

URL Signing

IP Access Policies

Password Protection

Search Engine Crawler Protection

CORS Headers

Locations shown on purchase
Purchase Plan
500 GB
$56.00
Per Year, USD
Most Value
---
Add Pull Zones

Let's Encrypt SSL

Custom CDN Hostname

WAF

Hot Link Protection

URL Signing

IP Access Policies

Password Protection

Search Engine Crawler Protection

CORS Headers

Locations shown on purchase
Purchase Plan
1 TB
$113.00
Per Year, USD
---
Add Pull Zones

Let's Encrypt SSL

Custom CDN Hostname

WAF

Hot Link Protection

URL Signing

IP Access Policies

Password Protection

Search Engine Crawler Protection

CORS Headers

Locations shown on purchase
Purchase Plan
Premium Worldwide Coverage
The Premium Worldwide plans include worldwide popular locations to cache your content globally
100 GB
$2.99
Per Month, USD
---
Add Pull Zones

Let's Encrypt SSL

Custom CDN Hostname

WAF

Hot Link Protection

URL Signing

IP Access Policies

Password Protection

Search Engine Crawler Protection

Custom Cache Expiry

CORS Headers

Locations shown on purchase
Purchase Plan
500 GB
$14.18
Per Month, USD
---
Add Pull Zones

Let's Encrypt SSL

Custom CDN Hostname

WAF

Hot Link Protection

URL Signing

IP Access Policies

Password Protection

Search Engine Crawler Protection

Custom Cache Expiry

CORS Headers

Locations shown on purchase
Purchase Plan
1 TB
$28.35
Per Month, USD
---
Add Pull Zones

Let's Encrypt SSL

Custom CDN Hostname

WAF

Hot Link Protection

URL Signing

IP Access Policies

Password Protection

Search Engine Crawler Protection

Custom Cache Expiry

CORS Headers

Locations shown on purchase
Purchase Plan
Worldwide + Oceania Coverage
The Premium Worldwide + Oceania plans include worldwide popular locations + Oceania to cache your content globally, favoring Oceania
100 GB
$10.80
Per Month, USD
---
Add Pull Zones

Let's Encrypt SSL

Custom CDN Hostname

WAF

Hot Link Protection

URL Signing

IP Access Policies

Password Protection

Search Engine Crawler Protection

CORS Headers

Locations shown on purchase
Purchase Plan
500 GB
$54.00
Per Month, USD
---
Add Pull Zones

Let's Encrypt SSL

Custom CDN Hostname

WAF

Hot Link Protection

URL Signing

IP Access Policies

Password Protection

Search Engine Crawler Protection

CORS Headers

Locations shown on purchase
Purchase Plan
1 TB
$108.00
Per Month, USD
---
Add Pull Zones

Let's Encrypt SSL

Custom CDN Hostname

WAF

Hot Link Protection

URL Signing

IP Access Policies

Password Protection

Search Engine Crawler Protection

CORS Headers

Locations shown on purchase
Purchase Plan
Worldwide + Asia Coverage
The Premium Worldwide + Asia plans include worldwide popular locations + more Asian locations to cache your content globally, favoring Asia
100 GB
$6.68
Per Month, USD
---
Add Pull Zones

Let's Encrypt SSL

Custom CDN Hostname

WAF

Hot Link Protection

URL Signing

IP Access Policies

Password Protection

Search Engine Crawler Protection

CORS Headers

Locations shown on purchase
Purchase Plan
500 GB
$33.41
Per Month, USD
---
Add Pull Zones

Let's Encrypt SSL

Custom CDN Hostname

WAF

Hot Link Protection

URL Signing

IP Access Policies

Password Protection

Search Engine Crawler Protection

CORS Headers

Locations shown on purchase
Purchase Plan
1 TB
$66.83
Per Month, USD
---
Add Pull Zones

Let's Encrypt SSL

Custom CDN Hostname

WAF

Hot Link Protection

URL Signing

IP Access Policies

Password Protection

Search Engine Crawler Protection

CORS Headers

Locations shown on purchase
Purchase Plan
Americas + Europe Coverage
The Premium Americas + Europe plans include popular locations in the Americas and Europe to cache your content
100 GB
$3.99
Per Month, USD
---
Add Pull Zones

Let's Encrypt SSL

Custom CDN Hostname

WAF

Hot Link Protection

URL Signing

IP Access Policies

Password Protection

Search Engine Crawler Protection

CORS Headers

Locations shown on purchase
Purchase Plan
500 GB
$15.90
Per Month, USD
---
Add Pull Zones

Let's Encrypt SSL

Custom CDN Hostname

WAF

Hot Link Protection

URL Signing

IP Access Policies

Password Protection

Search Engine Crawler Protection

CORS Headers

Locations shown on purchase
Purchase Plan
1 TB
$31.82
Per Month, USD
---
Add Pull Zones

Let's Encrypt SSL

Custom CDN Hostname

WAF

Hot Link Protection

URL Signing

IP Access Policies

Password Protection

Search Engine Crawler Protection

CORS Headers

Locations shown on purchase
Purchase Plan