Great news! We've launched our brand new Reseller Platform with 100% White labeling, WHMCS integration compatibility, and a feature-rich control panel. We've made the point of entry even more affordable for you with competitive pay-as-you-go pricing. Here's a detailed breakdown of how our platform helps you get the best out of your VPS reseller business.
Table of contents
CloudCone Reseller Platform
The CloudCone Reseller Platform is a solution that takes reseller hosting as you know it and simplifies it, so that all involved processes and workflows of a typical reselling business are optimized and streamlined for the convenience of the reseller and his clients. There are a few unique features that we've introduced to make this possible. The CloudCone reseller platform comes with three components woven together to seamlessly integrate all processes. These three components are:
The Partner Dashboard- which grants access to our cloud infrastructure.
End-user VPS management page (more on this below).
But that's not just it. We've gone a step further for resellers who prefer to integrate other billing modules instead of WHMCS. You can go ahead with the billing module of your choice (ex: HostBill) or you can even opt in to create your own custom module with this platform using our API.
100% White Labelled
White labeling is one of the most prominent features of our reseller platform. By white labeling your platform, resellers are able to market their products and services as their own brand without their clients ever finding out about the reseller's service provider. In this case, our reseller platform grants 100% white labeling elements such as displaying brand name, customizing brand look and style through JavaScript, CSS and HTML, using your own domain name, and displaying custom pop-up chat widgets for optimized client support.
Another specialty of this product is that resellers can host multiple reseller brands. That's right- not just one brand but many! When deploying their platform resellers can pick a desired amount of resources and start multiple reseller brands with those resources. In our Reseller tips & tricks blog post we discussed how having a niche market for your brand helps you boost sales with personalized niche-oriented products. Hosting multiple brands allows you to target multiple niches at once and increase the amount of sales you generate.
We have made it so that you won't have to worry about anything other than making sales and supporting your clients. Hardware management as well as network and uptime SLA guarantee will be provided by us, along with all the required features and underlying technologies. Platform level support is also available free of charge.
Retain more clients each day with our client-centered features
As a reseller it's obvious that your main concern is retaining clients. No matter how smooth and attractive your reseller platform maybe, the absence of features that actually sell can make it short-lived. In order to ensure that your reseller business stays profitable in the long-run, we have introduced features, and will keep introducing more, that can create convenient, personalized and useful products and services for your clients.
End-user VPS management page
The most outstanding of these features is our End-user VPS management page. One of the three main components of our reseller platform, the End-user VPS management page is a separate user interface that has been designed and dedicated for your own clients to access and manage the servers that they purchase from you. Through this we strived to create a much more agreeable and appealing layout for the client than the billing module's innate interface while also optimizing utility and functionality. Your client can enable automated backups, take snapshots, rebuild, reboot, boot and shutdown their server, use recovery mode, and use VNC, all through this simple End-user VPS management page. Our Partner Platform is built with a powerful API that utilizes a HS256 based JWT authentication per request, which doesn't require your client to login. In order to make it more convenient we've made it so that your client can simply access this End-user VPS management page using a generated link. For security reasons we've made this shareable link expire after an hour of inactivity.
Create support features for your clients
One of our White labeling features is that you'll be able to use HTML and CSS to create and display custom pop-up widgets on the End-user VPS management page. This allows for clients to easily reach out for support while using your products and services. Great support is a crucial factor of client retainment.
Application Recipes
What's more, resellers have the ability to deploy application recipes for their clients to run any type of project.
Does your client need to deliver his software development projects in containers?
▪️Use Recipes to pre-configure a Docker server.
Does your client need to host video conferences, online meetings, and a team collaboration platform?
▪️Use Recipes to pre-configure a Rocket.Chat server.
Does your client want a simplified file hosting platform to manage and store all his documents?
▪️Use Recipes to pre-configure a Nextcloud server.
You can deploy pre-configured third party application servers for your clients in just one click! (Courtesy of the one-click applications feature that is available for all our default servers). With this feature you can also create product packages and bundles, by combining different applications, to optimize your VPS products and match the specific requirements of your clients.
Platform-level support for our resellers
When it comes to reseller support, in addition to our default 24/7 free platform-level support, we have also made our exclusive CloudCone Business Support available to you at a added fee. This exclusive feature ensures that you receive high-priority support from a dedicated cloud associate or cloud engineer for all your concerns.
How to get started
It's quite simple to get started with our reseller platform. There are essentially just three steps to follow in this process.
#1 Pick your resources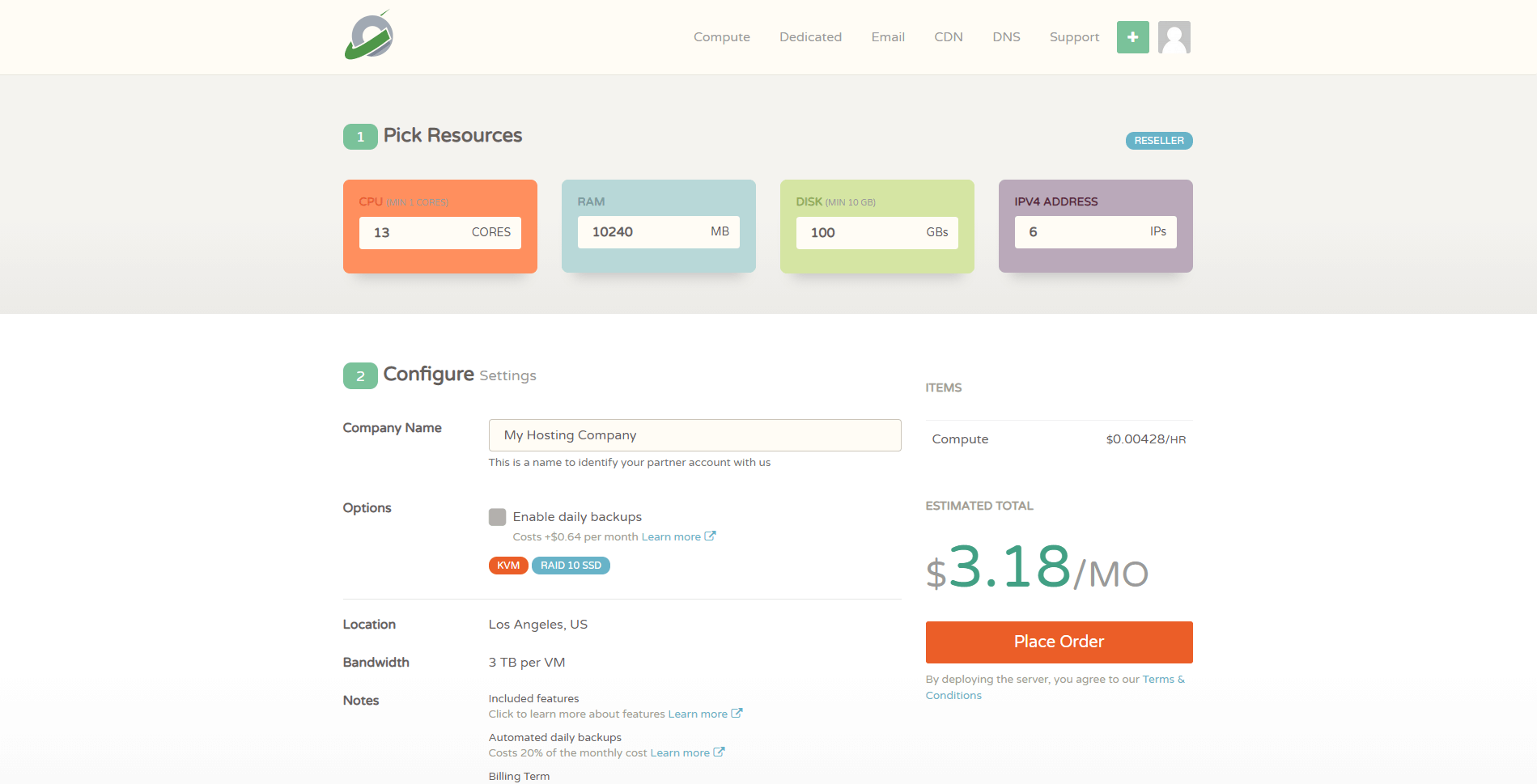 Naturally the first step of deploying your reseller platform involves picking out the necessary resources. Once you sign up with us, head on over to the partner page and click on 'Calculate Pricing' which will then take you to the order page. Here you will be able to scale your platform resources freely from CPU cores and RAM to Disk and IP addresses and view the changes in your final price in real time. After determining your resources, fill in your company name and click on "Place Order".
#2 Get your resources approved
Once you've placed your order our support team will contact you via email or a support ticket to know more about your business. Once this verification has taken place our team will give the green light to our cloud engineers to go ahead and set up your reseller platform.
#3 Receive your credentials
Finally once your reseller platform has been set up our team will forward your credentials via email. We will display your company name in our 'Partner accounts' drop down list. Here you can click on 'Manage' and 'Access Platform Dashboard'. And voila- welcome to your reseller platform!
We're beyond excited to share this product with you at a time when the ability to earn online from the comfort of your home is crucial. We hope that you come to love this platform as much as we do and we're thrilled to extend our support to all our resellers to build the business of your dreams. Go ahead and check out our reseller plans to find your ideal fit. You can also watch our product intro video and read our helpdesk article for more information. Head on over to our Reseller page to download the product whitepaper which has even more details about all the exciting features that this platform entails. To find out what our users think about the platform go ahead and check out this detailed review.
Curious to learn more? Check out these amazing related posts:
Here are all the winning tips and tricks for hosting your reseller business. Good luck!
Since our Reseller platform enables you to provision pre-configured application servers, find out more about our one-click apps on this blog post.
Cloud nativity is another technology that you can utilize on our platform to fine tune your business even more. Read up on Cloud Nativity and its potential on this blog post.
That ends today's post. Reach out to us if you have any concerns, suggestions, or general feedback.