Bitwarden
Open Source Password Management for You and Your Business
Deploy for free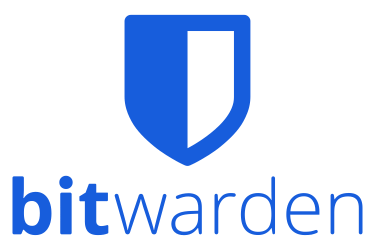 Why use Bitwarden?
Password theft is a serious problem. Your online accounts are consistently under attack which is why strong password security practices have never been more critical. The Bitwarden Password Manager helps you create and manage unique passwords so you can strengthen your privacy and boost productivity online from any device or location. It's the easiest and safest way for individuals and businesses to store, share and secure sensitive data on any device
Secure Password Sharing
Share your encrypted data quickly and easily, and only with the users or teams who need access
Cross-Platform Accessibility
Access critical data in your Bitwarden vault from any location, browser, and device
Security Audit & Compliance
Open source and third-party audited, Bitwarden complies with Privacy Shield, GDPR, CCPA regulations.
Detailed Event Logs
Bitwarden creates audit trails to help you keep track of user and group access to sensitive data
MONITOR
Vault Health Reports
Access insightful reports to reveal weak, reused passwords, and other helpful data security metrics
SAFE
Flexible Integrations
Use the powerful APIs to automate onboarding and management functions
CONVENIENT
QUICK INSTALL
How to install your free application on an optimized server?
Choose your application

Choose an application to install and run on an optimized server.

One-click to the install app

The one-click option easily installs the latest version on your cloud instance.

Configuring Bitwarden

Having trouble finalizing? Complete your configuration with the help of the full-managed support team.

SC2 PACKAGES
Bitwarden offers secure password managing and sharing. It's a self-hosted alternative to LastPass. Deploy for your team with just 1-click.

Lite-tier
$6.27
Per Month, USD
50 active users with minimal level of activities.
---
1 vCPU Core

2 GB RAM

40 GB RAID-10 Storage


3 TB Bandwidth

1 x IPv4

KVM Virtualization

Category SC2
Purchase Plan
Mid-tier
$12.39
Per Month, USD
100 active users with medium level of activities.
best Value
---
2 vCPU Core

3 GB RAM

60 GB RAID-10 Storage


3 TB Bandwidth

1 x IPv4

KVM Virtualization

Category SC2
Purchase Plan
High-tier

$23.77
Per Month, USD
250 active users with high level of activities.
---
4 vCPU Core

6 GB RAM

120 GB RAID-10 Storage


3 TB Bandwidth

1 x IPv4

KVM Virtualization

Category SC2
Purchase Plan